Techno/rap/punk ("Circle Pit Rap") | Moscow
MOSCOW DEATH BRIGADE – the ski-mask wearing techno/rap/punk crew, is dropping a brand new song "Ruder than Croc", which features LOS FASTIDIOS and their front woman Elisa Dixan. This is the second single for the upcoming 4th Studio album by the band "Radio Hope". The album will see a release on Vinyl, CD and Digital in Fall 2023 through Fire and Flames Music (Germany) and Rebel Sound Records (US).

The new track is the first time MOSCOW DEATH BRIGADE features female vocals in their music with Elisa Dixan's clear singing balancing out the usual aggressive rap flow of MDB's MCs. As befits many of MDB's and LOS FASTIDIOS' hymns the track also features powerful chants and singalongs by both crews including LF's frontman Enrico bellowing together, something live-show goers should look forward to and prepare to sing along! Musically the track dips into the Rave, Synthpop and Disco categories, which is a departure from the previous single's EDM and Big Beat sounds.
On 31/8/23 MDB already released a video from the first outtake of the new album, "Bass of Doom" feat. Hoya Roc from MADBALL.
"Ruder than Croc" streaming: https://orcd.co/11q2q5v
The upcoming "Radio Hope" album will contain 10 tracks that double down on the electronic sound and aggressive rapping that the band is known for, however the band balances it out with more melodic themes and use of acoustic guitar added throughout the mixes, as well as adding powerful female singing vocals to tie it all together. For the first time MDB are bringing a variety of featuring artists to their tracks. From the legend of NY Hardcore Hoya Roc (formerly of MADBALL), to Elisa Dixan of the joyful LOS FASTIDIOS among others.
The first part of the album release tour by Destiny Tourbooking in Autumn 2023 will bring the MDB sound to 16 gigs mostly across Germany with more dates announced for 2024.
05.10.23 CH Bern, Dachstock
06.10.23 DE Lindau, Club Vaudeville
07.10.23 AT Graz, ErntePUNKfest
08.10.23 DE Regensburg, Alte Mälzerei
10.10.23 DE Stuttgart, Im Wizemann
11.10.23 DE Wiesbaden, Schlachthof
12.10.23 DE Cologne, Live Music Hall
13.10.23 DE Magdeburg, Factory
14.10.23 DE Hamburg, Fabrik
15.10.23 DE Hanover, Faust
16.10.23 DE Dresden, Chemiefabrik
17.10.23 DE Berlin, Festsaal Kreuzberg
18.10.23 DE Munich, Backstage
19.10.23 CZ Prague, Lucerna Music Bar
20.10.23 AT Vienna, Arena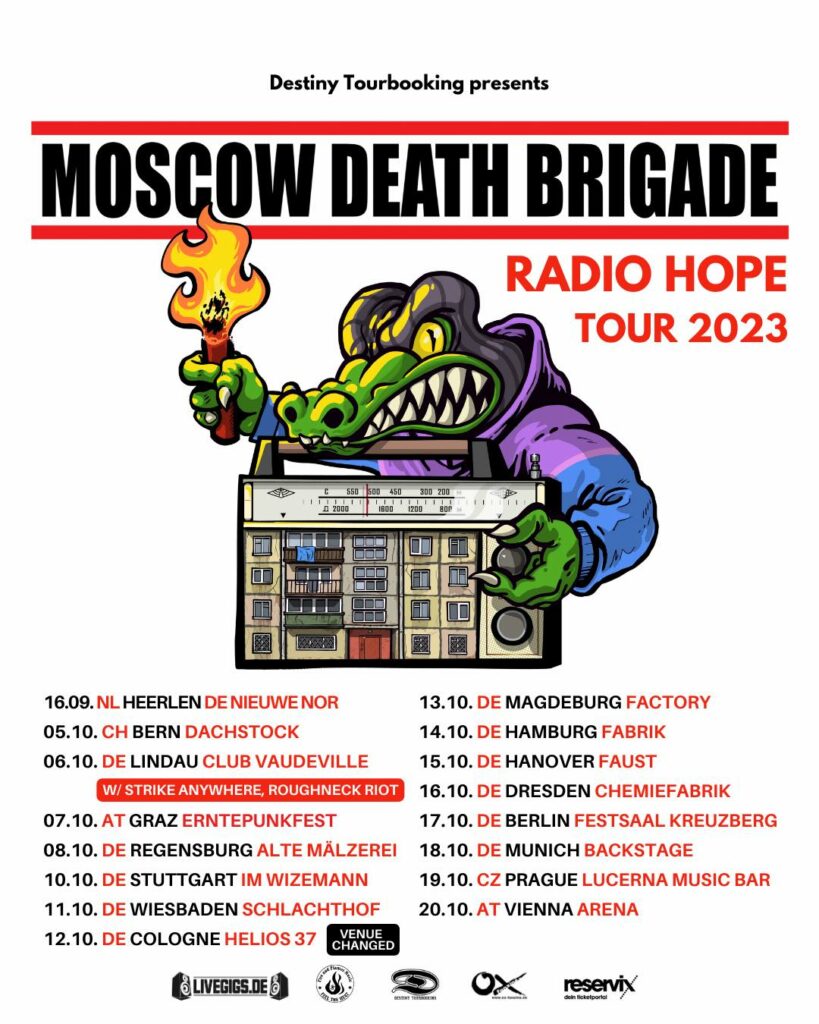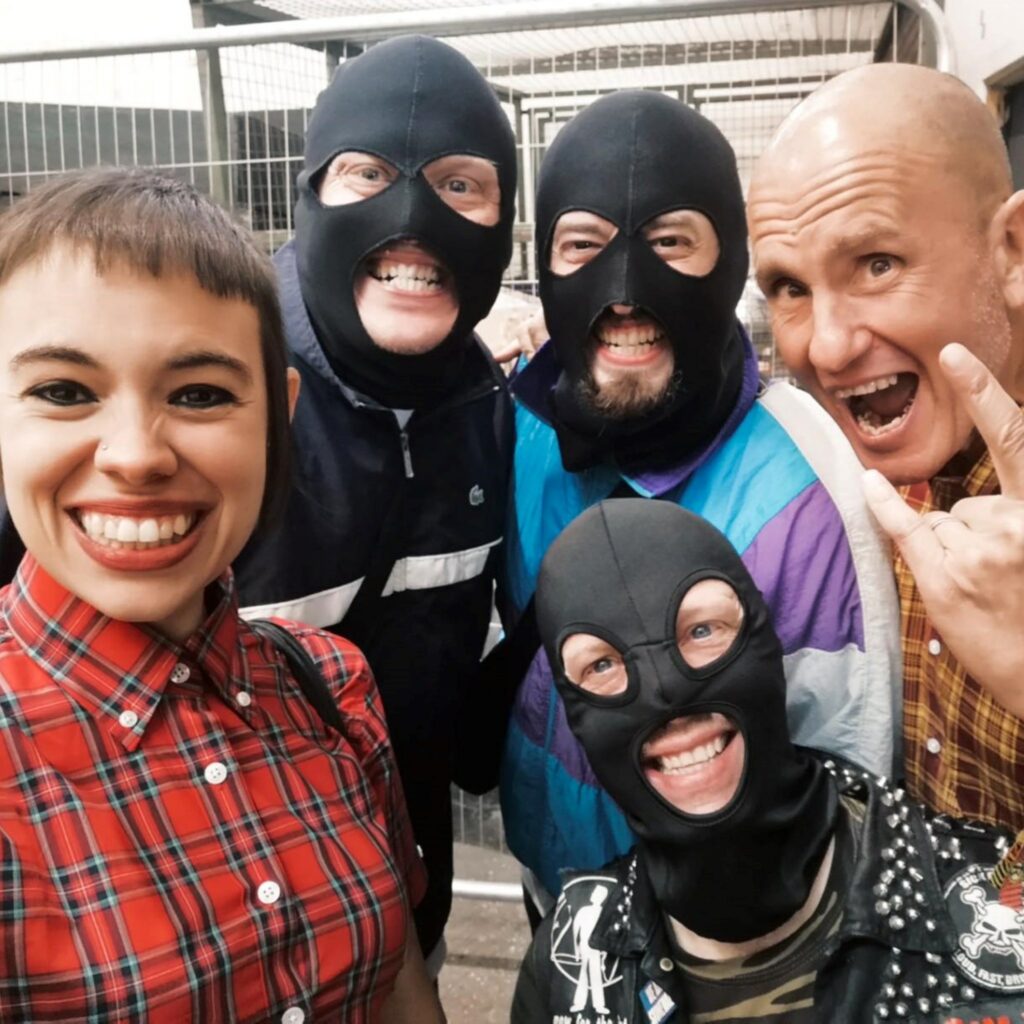 Moscow Death Brigade – Ruder than Croc feat. Elisa Dixan and Los Fastidios
Digital Single
29/09/2023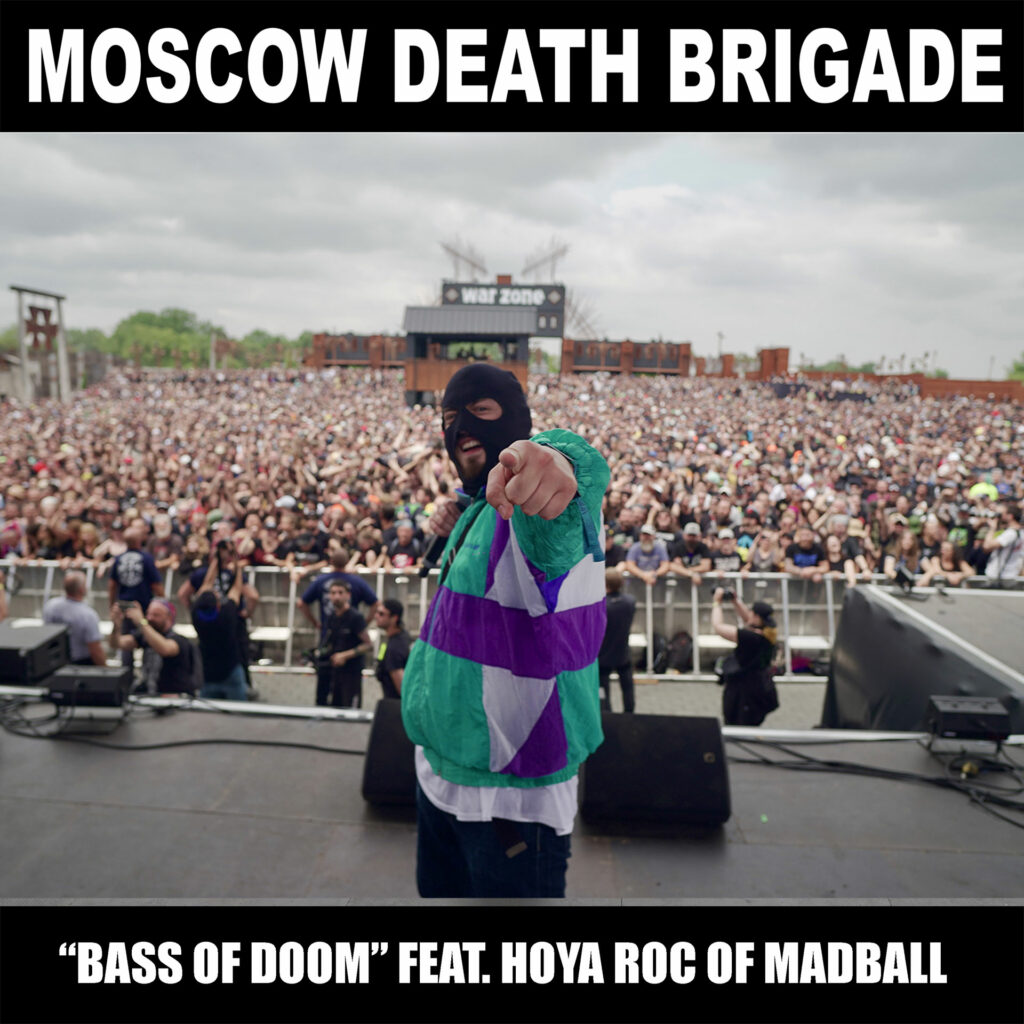 Moscow Death Brigade – Bass of Doom
Digital Single
28/04/2023 (Single)
31/08/2023 (Video)
Labels:
Fire and Flames Music
Rebel Sound Records
Booking:
Destiny Tourbooking
Press contact:
alex@upstartzrecords.net
Photos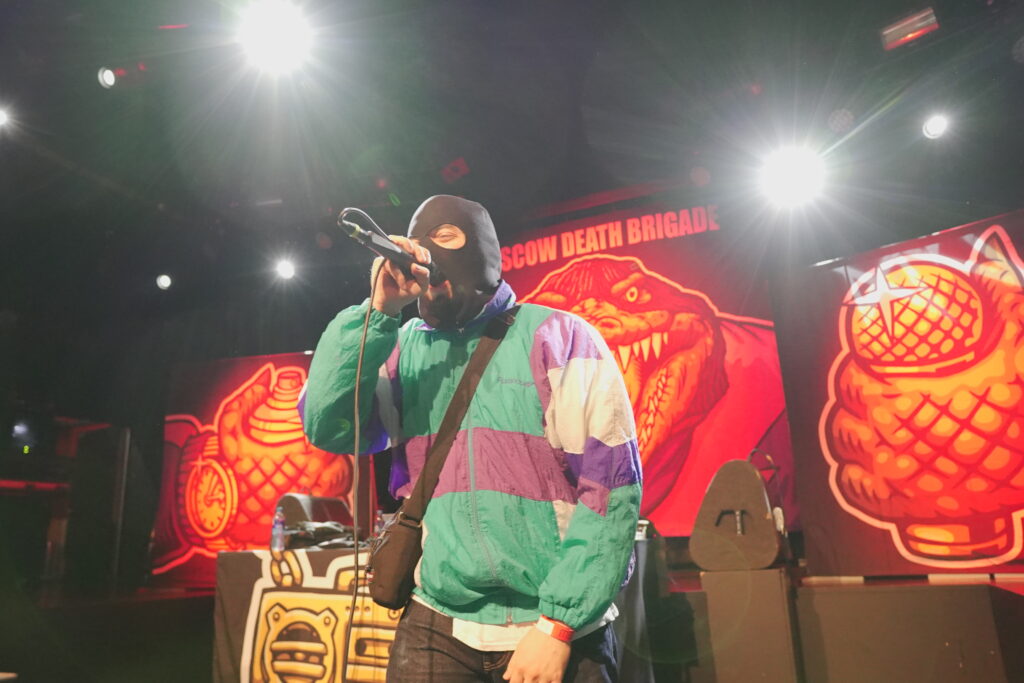 All photos by Moscow Death Brigade
Bio
MOSCOW DEATH BRIGADE is a techno/rap/punk band: a unique and aggressive mix of electronic music, hardcore punk and rap, steeped in graffiti and street culture and flavored with a positive social message against war, racism and other kinds of discrimination. Initially created as a DIY team MDB has its roots in progressive social movements and graffiti underground scene, that grew over 15 years to tour internationally. MDB are known for their benefit actions, raising funds and awarness for progressive causes around the world, their spectacular shows, and aggressive sound, The band on stage is 4 track suit and ski-mask clad figures – 3 guys and 1 girl, often joined by an anthropomorphic crocodile dressed in a similar style.
In 2022 and 2023 the band emerged after the global pandemic to play 75+ shows and festivals across Europe and the UK, including sold out headlining gigs in Berlin (1000 people), Hamburg, Madrid, London, Prague; supporting NOFX on their last ever European gig, as well as playing some of the biggest international festivals such Hellfest (DE), Roskilde (DK), Exit Fest (SRB), Rebellion Fest (UK). The band's previous two albums "Boltcutter" and "Bad Accent Anthems" were in the annual TOP 5 bestselling albums in Coretex Store (one of the main stores for HC and Punk in EU).
Live
News