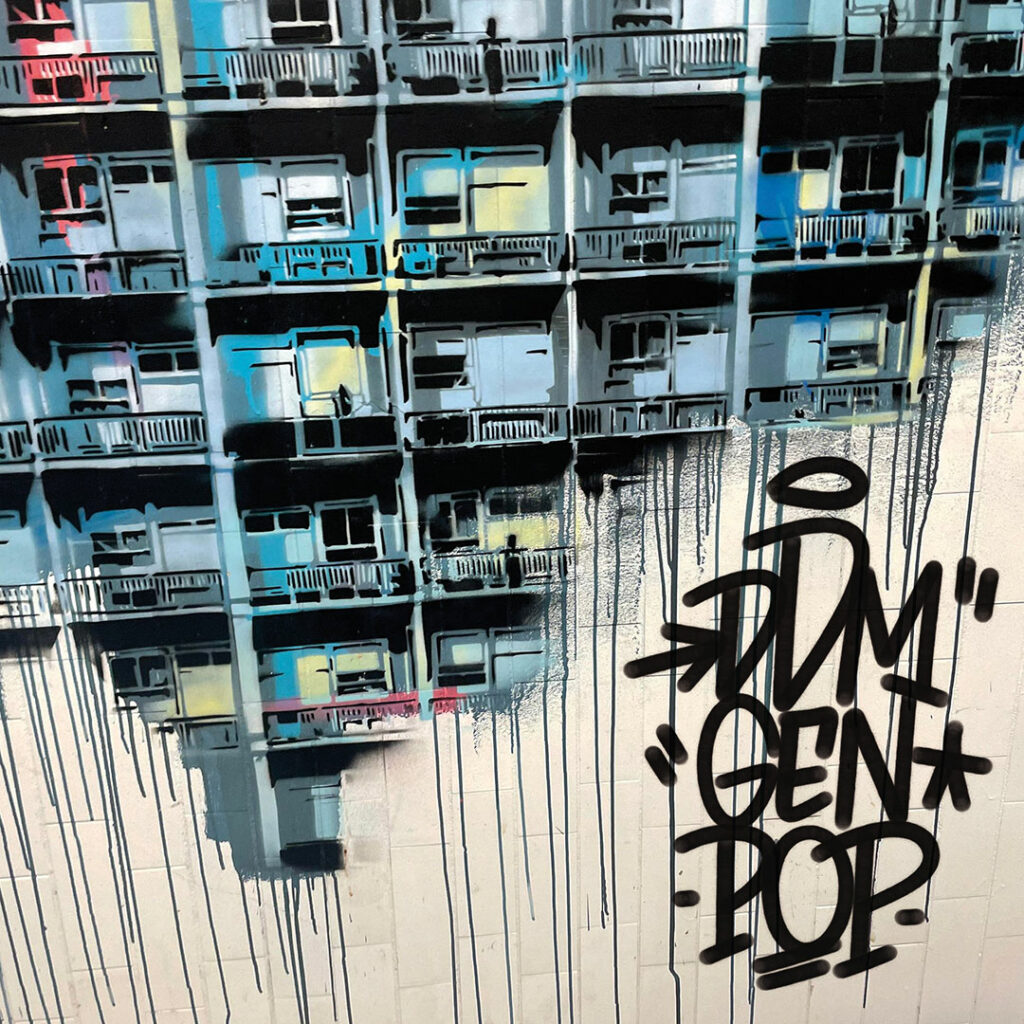 Date: 12/05/2023 / Vinyl 30/06/2023
Catalog Nr.: UR003
Format: Double LP / Digital
Tracklist:
01 Takin' Our Time
02 Necessary Illusions
03 Essential A.F.
04 Happy
05 I Was In It
06 One Day Remix (feat. Anela Jahmena and Tsidi Bang-Bang of Soundz of the South)
07 Blood Money
08 Whole Lot
09 Got No Home
10 Self Made
11 Swingin' Back
12 Raw
13 Summer Song
14 One Day (feat. Anela Jahmena of Soundz of the South)
Wordz, Music and Production: DDM (Drowning Dog and Malatesta)
Mix and Co-Production: Tristan Mazire at La Fugitive Studios (Paris)
Mastering: Audible Oddities (Oakland)
Features: Anela Jahmena, Tsidi Bang-Bang and Karl of Soundz Of The South (One Day Remix)
Anela Jahmena of Soundz Of The South (One Day)
Front cover/label art: Jana and JS
Back cover photo: Eddi Aguirre
Inside photo: Ewa Nowakowska
DDM Gen Pop tag: Bloozgraffiti
Sleeve idea: Tristan Mazire and DDM
Layout: Alex Upstartz
Berlin-based, made in California rap and producer duo DROWNING DOG AND MALATESTA, in short: DDM, have been creating musical rebellion against the unequal society and, as a cultivating part of the American and European radical rap scene, giving a voice to the people who are never heard since 2005. On May 12th 2023, DDM are back with their new album "Gen Pop".
With this album, DDM again mixes intelligent lyrics with extraordinary soundscapes, which fortunately have nothing in common with the click-bait driven hip hop mainstream, neither in attitude, nor in content, nor in sound. The 14 songs (including some skits and features from south-african hip hop collective SOUNDZ OF THE SOUTH) flow between electronica, hip hop, soul, bass music, country, blues, R&B, punk, funk and more, sometimes fast, sometimes slow, but always tight to the point.
The new album was created in Berlin during the difficult year of 2020. The title "Gen Pop", short for "general population", is a prison term in the US for the main body of prisoners that haven't been segregated into special housing for disciplinary measures. In the context of the album it symbolizes the day-to-day life of violent poverty in a working-class existence. The song texts thematize generational poverty, the constant exploitation of the earth and people, anger, and – as a positive perspective – the fight for a better life: "Co-operate – That's what we gonna do – Cause this shit can't wait – A better way of living – We can create – Organize and imagine – Liberate" it says in "Essential A.F.", a song also criticizing the state's treatment of the people during the corona pandemic.
The first outtake "Takin' Our Time" was released on April 28th. In this mid tempo track, DDM call for a deceleration of this (capitalistic) everyday life that keeps us all on our toes and steals our precious time of life. It talks about wanting a world where we take more time for ourselves, our loved ones and our social needs rather than everything being dictated by work, commuting and the endless grind. The song is a taster of the content of DDM's album, which is as political as ever. On this song it focuses less on detailed text passages and more on the massive beats of DJ Malatesta. After all, this is also the album's opener and thus introduces us to the soundscapes of DDM, who have perfected their own bass-heavy electronic style in the more than 15 years of their existence.
A special track on the album is "One Day Remix" featuring Anela Jahmena and Tsidi Bang-Bang of SOUNDZ OF THE SOUTH, an anarchist music collective from Cape Town (South Africa). After communicating with SOUNDZ OF THE SOUTH for many years, they finally met up in person in Berlin-Kreuzberg and started the remix. "We can feed ourselves – We can be the leaders we have been looking for – We can be the shade when it's hot outside – We can be the water when the mouth go dry – We can be everything – We need", DDM and Soundz of the South emphasize mutual aid and working-class solidarity.
Download Presskit (.zip)